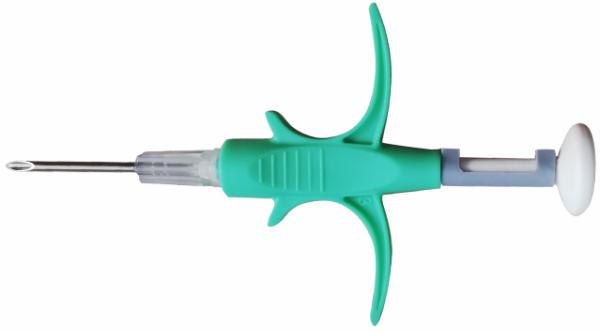 Zertifizierte Verträglichkeit
Dank einer speziellen, biokompatiblen Oberfläche ist der AL-VET® ID ISO-Transponder sehr gut gewebeverträglich. Die hohe Verträglichkeit des verwendeten Bio-Glases der Firma Schott Glaswerke wurde von der AECO, der Arbeitsgemeinschaft für EDV gestütztes Controlling und Organisation (GBR), im "Certificate of AECO of 1990/09/04" zertifiziert.
Langjährige Erfahrung
Alle AL-VET® ID ISO-Transponder sind hochwertige Produkte und das Ergebnis vieler Jahre Praxiserfahrung.
Der nur 12 mm lange Al-VET® ID ISO-Standard-Transponder erfüllt die für die Tierkennzeichnung maßgeblichen ISO-Normen 11784 und 11785. Der zweistufige Facetten-Langschliff der Kanülen gewährleistet eine schmerzarme Punktion.
AL-VET ID Standard ISO-Transponder mit 12 mm Länge und einem Durchmesser von 2,12 mm, für mittelgroße und große Hunde und für größere nicht artgeschützte Zoo- und Wildtiere.
Der Transponder wird steril in der Injektionskanüle (2,6 x 25 mm) geliefert.
Zur Tierkennzeichnung
Originalpackung: 12 Stück